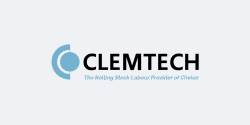 Vehicle Builders Jobs Ref JO0000010036SD - Clemtech
Milton Keynes, HC MK125NT
Vehicle Builders Jobs Ref JO0000010036SD

Vehicle Builders needed for fitting interiors of rolling stock, including doors, flooring, tables and windows and following procedures and recording their work.

Qualifications
Due to the safety critical nature of the work candidates must hold NVQ Level 3 or equivalent (C & G level 2 if apprenticeship before 1994, or C & G level 3 if apprenticeship after 1994.) You will be asked to provide your qualification certificates and ID prior to your interview and/or during the interview. 
Our client is a specialist in the repair, overhaul and supply of major rail components including bogies, couplers, tail-pins, gangways, HVAC equipment, brake actuators, and various valves.
A market-leading organisation undertaking various major refurbishment projects which include interior and exterior painting and branding, new floors, lino and dado panels, seat upholstery along with some minor modifications.
If you have completed interior rebuilds on buses or coaches, you may have transferable skills so please apply.
To be considered for this role you must be able to demonstrate the quality of your previous interior work and hold a Level 3 Engineering qualification.
You must be able to pass a medical that includes sight / hearing and a drug and alcohol test.
Stripping out and refitting the interiors of trains including, seats, luggage racks, trimming floors, overhead panels, windows, dado rails, HAVC units.

The Vehicle Builders will need to be competent in
*Using sharp tools; chisels, saws, planes. 
*Understanding of mechanical machines; hand saws, bench saws. 
*Competent to use hand tools; electric pump screwdriver, spanners and torque wrenches, portable circular saws, jigsaw. 
*Experience working with woods. 
*Good understanding of strip and rebuild vehicle interiors; luggage racks, seat frames, buffet cars. 
*Knowledge of interior panel's removal on vehicles. 
*Re-insulating panels. 
*Strip, remove and rebuild floor panelling and plywood flooring; renew by cutting to specified shape. 
*Assembly work.

The Vehicle Builders jobs was posted by Clemtech

Clemtech are a Technical Recruitment Agency specialising in employment opportunities and the executive job search in engineering, technical and office support staff in both contract and permanent Jobs in Rail. 

From the Clemtech Head Office we deliver comprehensive recruitment solutions across the UK, Europe and Overseas providing our clients and candidates alike with unparalleled service, support and opportunities. 

Application for this position and subsequent acceptance to attend an interview for the Vehicle Builders Job will be evident of your willingness to work in this role and may be suitable for you if you're interested in jobs for a Vehicle Builders commutable from Bedford, Northampton, Kettering, Rugby, Huntingdon, St Neots, Stevenage, Hitchin, Luton, Aylesbury, Leighton Buzzard, Brackley, Banbury, Towcester.

This job vacancy is only open to candidates with the right to work in the U.K
£18.00 - £21.00 per hour
Benefits