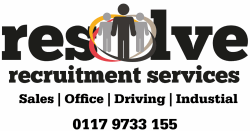 Trainee Recruitment Consultant - Resolve Recruitment Services Ltd
Bristol, SW BS12BD

Trainee Recruitment Consultant, Clifton, Bristol, BS8

Resolve Recruitment Services are working with a fast growing, independent recruitment agency based in Clifton, Bristol, who focus on the Technology markets. Due to exceptional growth, they seek a number of Trainee/Entry level sales staff to join their booming business as a Trainee Recruitment Consultant.

A traditional Recruitment role including:

Sourcing candidates from an in-house database, job boards and social media - focusing purely on permanent placements within the Sales & Office Support sectors UK wide
Interviewing (largely over the phone), assessing suitability to roles both you and your colleagues are managing
Creating/posting adverts and other administration
The person:
A minimum of 6 months in a sales environment
A graduate or graduate caliber persons required
Reliable, hardworking, committed and flexible
Results driven to achieve high bonus/commissions
Presentable as both clients and candidates
Clear communication skills and dealing both over the phone and in person
The package:
£18,000-20,000 basic salary
Very high uncapped commissions
Excellent benefits including pension and discounted healthcare option

For more information on this exciting and rewarding Trainee Recruitment Consultant career, please APPLY TODAY.

Recruitment Consultant, Trainee Recruitment Consultant, Snr Recruitment Consultant, Graduate Recruitment Consultant, Telesales Advisor, Telesales Consultant, Telesales, Sales Executive, Snr Sales Executive, Jnr Sales Executive, Clifton, Bristol, BS8.

£18,000.00 - £20,000.00 per year
high OTE + benefits