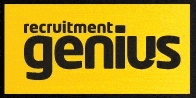 Trainee Helpdesk Analyst - Recruitment Genius Ltd
Maidstone, Southern
Company
This employer is a hybrid between a Managed Services Provider (MSP) and a Cloud Services Provider (CSP) based in Maidstone, Kent. Specialising in providing services based in the cloud, they have datacentre infrastructure spanning the UK, Europe and the US. Due to recent growth, they are now looking to expand their Service Desk team with an additional enthusiastic Trainee Helpdesk Analyst.

Role
Looking to kickstart your career in IT, you will join this team as part of their growing Service Desk reporting to your 1st Line Supervisor. The role will see you taking on a training period of 12 months, working as part of their Service Desk which will allow you to gain knowledge of and experience with the numerous different technologies that they utilise - including but not limited to Windows, Linux and Cisco. You will have the opportunity to rapidly progress your skills in an encouraging environment with the intention of completing both the CompTIA A+ and CompTIA Linux+ within the 12 months.

Day to day you will be logging service requests on their CRM system and carrying out initial fault finding and diagnostics before escalating to senior members of the team where required. Additionally, you will also be reviewing our real-time monitoring alerts and maintaining backups.

Following the initial 12 month's training and completion of both CompTIA certifications the role is then designed to transition into a permanent role with a salary increase starting from £18,000.

Hours: Rotating shifts between 8AM to 4:30PM and 10AM to 6:30PM, Monday to Friday

Responsibilities
As a Helpdesk Analyst on the Service team, you will be responsible for:
- Support case creation and management
- Call logging and handling
- Initial fault finding and problem escalation
- Maintaining backups
- Observe and react to real-time monitoring alerts

Skills & Experience - Essential
- You will have a strong interest in IT and progressing your skills and abilities within this industry.
- You will be enthusiastic and driven.
- You will have excellent verbal and written communication skills.
- You will have the ability to show initiative and have a proactive nature.
- You will be comfortable and/or willing to make/receive calls.
- Any prior experience in or related to IT a bonus.
12,000.00 - 12,000.00 per year