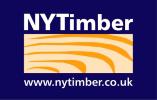 Skilled joiners/ Skilled Timber Fabricators, Brompton on Swale (New Competitive Rates) - NYTimber
Richmond, Yorkshire DL10 7HS
Experts in timber since 1979, NYTimber, part of the National Timber Group are looking to recruit Skilled Joiners/ Skilled Timber Fabricators to join the Production and Distribution site in Brompton-on-Swale.
The successful candidate will be an enthusiastic, flexible and a reliable team player with good literacy and numeracy skills. Joinery knowledge and ability to read fabrication drawings is essential and site training will be given. 
Duties may include:

Manufacturing high end, fully finished timber frames
Working to exact tolerances

39 hours per week, Mon-Thurs 8.00am to 4.30pm, Fri 8.00am to 3.30pm, competitive basic hourly rate + all agreed hours worked over 39 paid at overtime rates.
OR
37.5 hours per week Mon - Fri 6.00am - 2.00pm/ 2.00pm - 10.00pm rotating (16.5% shift allowance payable)

Pay and benefits:

Competitive salary

Overtime paid at 1.5 time during week over basic hours and Saturdays or double time for
Sundays and Bank Holidays


Realistic earning potential of more than 29% above National Minimum/Living Wage for skilled operatives 

Promotion opportunities


Training and development opportunities
To apply:


Please email or post your CV or request an application form to
recruitment@nytimber.co.uk
or Lorna Garrick, Human Resources Advisor, NYTimber, Bridge Road, Brompton on Swale, Richmond North Yorkshire, DL10 7HS. Alternatively visit our website
www.nytimber.co.uk
to download an application form and send it to the address above.
STRICTLY NO AGENCIES PLEASE

Competitive hourly rates + overtime and shift allowance also available