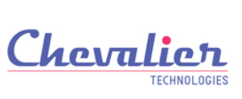 Sales Executive - Chevalier Technologies Ltd
London, London W3 0AF
Chevalier Technologies is a fast-growing tier one automotive company based in west London at Park Royal Concord. The company specializes in the design, development, manufacture and supply of advanced technology products which are line-fitted to world-famous prestigious passenger and sports cars in Europe, USA, India and China.
Due to our continued growth, we are currently looking for Sales Executives with proven experience in engineering products.
This position is for an ambitious person who thrives on achievement and dedication.

Role & Responsibilities:
As Sales Executive, you will be reporting to the Commercial Director. Your role
will encompass:
• Defining the long-term strategic commercial goals
• Identifying new business opportunities
• Negotiating and closing business deals
• Building long-term relationships with new and existing customers
• Promoting the business through the placement of selective and targeted advertising
• Preparing and submitting activity plans and meeting reports in a timely fashion



Essential Knowledge, Skills and Experience:
• Proven work experience in business development, sales and marketing and related fields
• Experience in engineering
• Ability to build lasting rapport with current and new customers
• Having impeccable command of the English language both spoken and written
• Highly articulate with strong communication and negotiation skills
• Well organised, methodical with strong attention to detail Ability to build lasting rapport with current and new customers

For further Information, please feel free to contact us.

No agencies please!