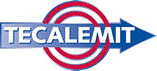 Sales Administrator / Sales Support / Sales Co-ordinator - Tecalemit
Plymouth, SW PL11DZ

Job Title: Sales Administrator

Location: Plymouth

Salary: Competitive, Dependent on Experience

Job Type: Part Time (20 hours per week), Permanent

Founded in London in 1922 the company has been at the forefront of vehicle servicing & maintenance ever since. They are a business full of great people who care about their jobs, their colleagues and their customers. They are currently looking for someone to fulfil the following.

Job role:

To carry out the administration of the enquiries, quotations and orders for the Field Sales Managers on Key Accounts and Contracts, also to support the sales administration of spares.

To liaise with colleagues from all departments to aid smooth order processing and to provide other administrative support within the Sales Office as required.

Duties:

Process customer enquiries, by telephone and written communication
Manage the order process from receipt of order through planning to despatch
Accurate maintenance of records
Timely preparation of tenders and associated documentation
Co-ordination of contract administration
Liaise with customers
Coordinate workflow between departments and external contacts
Provide ad-hoc support to colleagues as and when required
Prepare and issue quotations, follow up with customer
Filing, scanning and general office administration
Provide administrative support to field based Sales Managers
Support the development of spares sales
Administration of sales enquiries and orders
Liaison with internal and external contacts as required to ensure customer expectations are met in full
Comply with company and statutory health and safety requirements
Promote the company professionally to all external contacts
Key Requirements:
Computer literacy - Word, Excel
Ability to prioritise tasks
Excellent time management
Accuracy and attention to detail
Excellent interpersonal skills
Effective telephone manner
Strong organisational skills
Strong communication skills
Excellent customer service skills
SAGE order processing experience
Numeracy aptitude
Ability to understand engineering relating to the automotive industry
A background in the automotive/industrial/engineering sectors would be an advantage

Please click the APPLY button to send your CV and Cover Letter for this role.

Candidates with the experience or relevant job titles of; Sales Assistant, Sales Administrator, Sales Admin, Administrator, Admin, Sales Support, Support, Assistant, Customer Services, Customer Sales Associate, Customer Services Administrator, Customer Services support, Customer Service Advisor, Office Administrator, Office Admin, Office Assistant, Office Associate, Office Support, General Admin, Team Administrator, Team Admin will also be considered for this role.