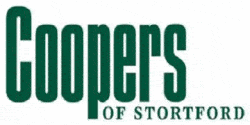 Retail Stock Control Manager - Coopers of Stortford
Bishop's Stortford, HC CM232JU
Coopers of Stortford is a successful and well-established multi-channel retailer in the Home and Garden sector.  We are currently recruiting a Retail Stock Control Manager to join our retail team for our store based in the heart of Bishops Stortford. You will be joining on a full time, permanent basis in return for a competitive salary of up to £22,000.
As our Retail Stock Control Manager, you will manage the Retail Operation of stock flow through the business, from lorry to shelf, while ensuring safe working practices are adhered to. You will maximise stock availability, control costs and minimise loss. You will also support the delivery of a sustainable and efficient operating Store to maximise stock availability and ensure interior and exterior of the store is maintained to the company standards.
Your responsibilities as our Retail Stock Control Manager will include:
- Overall responsibility for the Goods In function - from receipt to despatch of goods
- Manages the pre-retailing of all stock ready for the shop floor
- Produce reports to the commercial team and board of Directors
- Monitor and report against KPIs
- Management of stock room, to ensure a safe working environment, with stock clean, priced and tidy
- Organise, complete, investigate and interpret results of stock takes, producing measurable action plans and fully deliver in line with timescales, working with the Assistant Store Manager
- Audit check weekly to identify items in the stock room not on the shop floor
- Identify opportunities in the store for stock, working closely with the Assistant Manager and Store Manager
- Working with the Assistant Manager to manage adhoc maintenance tasks including lighting, painting, ensuring the interior and exterior of the store is maintained to the company standards
- Pre retailing standards to be followed, monitored and maintained
What are we looking for in our Retail Stock Control Manager?
- Previous experience of undertaking stock takes and preparing results for reporting
- Good organisation skills and able to prioritise workload
- Good attention to detail within a retail stockroom environment
- A strong understanding of stock presentation in a retail environment
- Be proactive and have a positive attitude to working challenge
- Team management, training and development skill
- Experience of creating and working to KPI's
- Good inter-personal skills (written and verbal), able to communicate well within the business and externally
- Ability to present information clearly and with confidence and influence key stakeholders
- Ability to work on your own initiative and as well as in a tea
- Excellent computer knowledge of Microsoft Office
- First Aid trained
- Driving license to drive the Forklift
If this is the role for you, why not click 'apply' today to become our Retail Stock Control Manager - we'd love to hear from you!