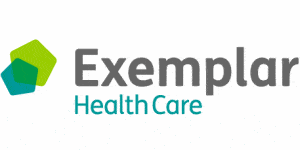 Registered Nurse - Exemplar Health Care
Leigh, NW WN7 5EY
Registered Nurse



When registering to this job board you will be redirected to the online application form. Please ensure that this is completed in full in order that your application can be reviewed.

Registered Nurse

Lakeview

Up to £16.37 per hour + £1500 welcome bonus

Hours: Full-Time or Part-Time hours available (Options: 24, 36, 42 or 48 hours available)

Shifts: Days & Nights (8am - 8pm/ 8pm – 8am)

Lakeview is Exemplar Health Care's newest nurse-led care home. It is a purpose-built, 30 bed service for adults with complex needs, divided into three 10-bed units (including two specialist bariatric bedroom suites). With expertise across a range of neuro-disabilities, mental ill-health, brain injury, stroke and early-onset dementia, at Lakeview the focus is on what matters to people. Our approach is about making sure people are at the centre of their care whilst involving other people who make a difference in the person's life – family, friends and the community.

About the role:

At the forefront of clinical care delivery, as registered nurse you will be responsible in providing strong leadership to develop and improve the standard of daily living.

Nursing is all about person-centred care, meeting the needs of all individuals. It is important for an Exemplar nurse to be able to demonstrate a flexible attitude, person-centred care and develop strong relationships with service users and their families.

We aim to make every day better for those in our care, by promoting independence and dignity throughout everyday life.

Key duties:
Assessing care needs and developing person-centred care plans
Supervise team members, ensuring shifts run smoothly and efficiently
Administer, review and monitor service user medication
Participate in the training of new care assistants and nurses
Communicate with service users, families and other healthcare professionals
Experience of Mentorship and a supervisor qualification would be desirable, but are not essential.
Requirements
You will be a Registered Nurse, RGN, RMN or RNLD and will have a valid NMC pin. Our teams are nurse led; therefore, you will have worked as part of a multi-disciplined team, communicating effectively to provide great quality individualistic care.
About you
Our registered nurses provide warmth, enthusiasm and compassion when providing care to our service users. You will always strive to provide great quality holistic care, making every day better than the last: promoting our core values: maintaining independence and dignity to our service users. You will be a team player, demonstrating outstanding communication skills and will be able to demonstrate effective team work as part of a multi-disciplined team. You'll be up to date with current evidence based practice and have a working knowledge of CQC Standards and Regulations and will work using your initiative making effective decisions to improve care quality.
Benefits
£1500 Exemplar Welcome Reward*
5.6 weeks' holiday
Paid NMC registration after 12 months - Worth £120
Paid DBS check
RCNi CPD e-learning – offers training for revalidation
Exemplar rewards – Including: retail and high street restaurant and Pub discounts, holiday discounts and 2 for 1 cinema tickets.
Refer a Friend scheme - Up to £1,500
Employee assistance program – 24 hour helpline
Pension plan
Free uniform
Free car parking
Pay equivalent to NHS Band 6
Additional info / about Exemplar:
Exemplar provides the highest levels of quality care, and that means care for our staff as well as the people in our community homes. When you join Exemplar, you bring your energy and commitment to delivering the best care possible. Our mission is to make every day better for every one we care for and work with.
At Exemplar, we enhance the lives of our services users, families and staff by providing everyone with the opportunity to develop, grow and reach their potential.
*Exemplar Health Care is offering a £1500 welcome bonus to all new registered nurses and clinical professionals. The £1500 payment will be split over two instalments. £500 will be paid after induction training. £1000 will be paid after completion of a successful probation period. To qualify for the bonus applicants must apply directly to Exemplar.
*** Also included in your employment package is FREE access to an account with RCNi, the online nursing resource designed specifically to meet the NMC's requirements. RCNi Learning is a valuable online training resource which has been designed to help you enhance your skills and meet personal CPD requirements for revalidation. This can be accessed on any device including smart phones and tablets allowing flexible learning. It is simple to use and incorporates multimedia to deepen your understanding. Modules include case studies, pre and post-tests and time-out exercises to create a rich learning environment.