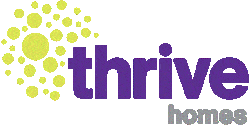 Procurement Business Partner - Thrive Homes
Hemel Hempstead, HC HP39TD
We are currently looking for an experienced Procurement professional with some Housing experience / knowledge to join our team as a stand alone Business Partner. This role is key to ensuring our property teams procure the best services for our homes. You will be someone excited by working with great people but having autonomy on how you deliver to your internal customers, you will have procurement / purchasing background and be strong at influencing.
At Thrive Homes we manager over 5,000 properties and are continuing to build new homes each year. As an organisation we embrace change, are positive and curious, and respect each other, which we believe enables and empowers individual success. Joining our team will be rewarding, challenging, exciting and most of all fun!
Thrive is an exciting place to work where you will challenge yourself and others to achieve success and think differently. We operate full agile working conditions in our new offices in Hemel Hempstead and pride ourselves on looking after our employees with with progressive careers and leading benefits as we continue to grow as an organisation and aim to attract the very best talent.
Requirements
The Procurement Business Partner role will give you autonomy to design how you deliver proactive specialist support to your internal customers,, helping them make the right commercial decisions.
This business partner role will be customer focused, providing procurement and contract management direction and support across the business. You will be responsible for delivering cashable and non-cashable savings from the work you do and you will ensure that Thrive procures and manages its contracts in a compliant manner. You will work pragmatically with your stakeholders and always make decisions that are in the best interest for Thrive. You will engage with Thrive's customers from time to time, keeping them informed about how Thrive delivers value for money through the robust procurement and management of key contracts.

Your main responsibilities will include:

To lead all procurement and associated contract management activities in accordance with Thrive's Strategic Framework (including the Procurement & Contracting Policy) and operational objectives.
To use tendering, framework agreements, quotations, e-auctions and other sourcing tools to drive best value.
To create, develop and lead Thrive's Procurement Delivery Plan – working with Business Leads and Senior Managers to ensure the impact on resources is understood and mitigated where possible.
Key skills & experience that you will bring with you:

Demonstrable experience of delivering savings through effective procurement and contract management.
Significant understanding and confidence to solely manage a procurement service.
A good working knowledge of the PCR 2015 and general public sector procurement best practice.
Strong stakeholder management and influencing skills
Strong organisational skills and are excited by a stand alone procurement role that you can make your own
Benefits
Salary: Up to £42,000 plus excellent benefits including:
Up to 10% pension contribution
£900 flexible benefits pot per year
HealthShield – We provide employees the facility to claim cashback for dental, optical and physiotherapy costs, alongside wellness services

Life assurance

£40,000.00 - £42,000.00 per year