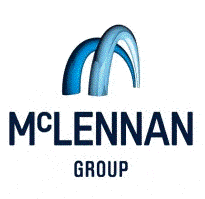 Multi Skilled Engineer - McLennan Group
Warrington, NW WA36BL
McLennan Group has a fantastic opportunity for an experienced, accomplished and self-motivated Multi Skilled Engineer to provide essential services to our clients', both locally and across the country.
Location: Warrington, Cheshire (WA3)
Salary: £15-£16 per hour (travel paid after first 30mins) + benefits (including company vehicle, fuel card, laptop, testing equipment, a competitive hourly rate and further training in line with business requirements)
Job Type: Full Time, 40 Hours Per Week plus overtime when applicable
With over 40 years' experience in the building services industry, the McLennan Group is a team of highly qualified and dedicated professionals, putting your mechanical and electrical needs at the forefront of everything we do. Working with a diverse range of clients, we have been able to achieve an enviable reputation for delivering cost-effective, high quality and reliable work.
As our Multi Skilled Engineer, you will work across a variety of functional groups that are directly involved in Gas, Electrical Engineering, Servicing and Compliance. You will need to be an inventive problem solver that can work through technical challenges and employ pragmatic solutions.
As our Multi Skilled Engineer your main responsibilities will include:
- Carry out servicing work to commercial Gas systems and associated appliances.
- Diagnose faults on Gas boiler systems and associated appliances.
- Assess the parts needed for remedial works to assist with quotation purposes.
- Conduct routine maintenance and testing on commercial Gas systems to the relevant industry standards.
- Assist with electrical maintenance work & handyman visits.
- Ensure good quality workmanship which upholds company standards, complies with building codes, and follows safety requirements
- Comfortable working alone or as part of a team.
- Provide exceptional face to face customer service and answer any customer questions.
- Provide professional assessments and advice for customers.
- Possess working knowledge of Gas Safe Regulations.
- Demonstrate a strong understanding of all industry standards and legislation.
To be our Multi Skilled Engineer Minimum Requirements:
- Possess ECS/CSCS Health & Safety Qualification.
- Full UK Driving License.
- PASMA/IPAF an advantage.
- City & Guilds
- Commercial Gas Qualification - essential
- Electrical knowledge - Advantageous
If you are passionate about service delivery and want to move forward with a company that is going places, please click 'Apply' now to send us your CV for this Multi Skilled Engineer opportunity.