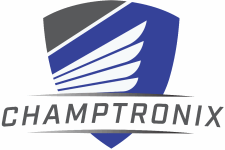 Marketing & Sales Assistant - Champtronix
Wembley, London
Marketing & Sales Asssistant
Immediate Start
At Champtronix, we're looking for the next generation of talent to join our expanding team. We have 5x fantastic opportunities for entry level candidates, school leavers, placement year students and career starters from all disciplines. These roles combine marketing, sales, business, recruitment, management training and more.
Who are we?
We're an established Marketing and Sales company located in the heart of Watford, Hertfordshire. We were established to bridge the gap between consumers and brands.
Our ultimate mission is tri-fold:
To help companies and brands grow, expand and reach their full potential
Act as storytellers, connecting brands with people and providing great customer experiences
Helping future customers to love their products and services
We have big goals and need ambitious people to help us reach them. Our aim is to expand to 10 locations nationwide in the next couple of years and internationally after.
A bit about the role:
We believe in investing time and effort in top talent and we know that Will always beats Skill, therefore we offer these entry-level roles as our pledge to help develop the next generation of leaders, entrepreneurs and professionals.
Unlike other apprenticeships, at Champtronix you will gain practical experience, not just an entry on your CV. Some of the key areas the Marketing & Sales Assistant will be involved in are:
Sales and marketing presentations
Execution of direct marketing campaigns
Raising brand awareness for our clients in residential areas
Registering new customers on our clients' platforms
Territory management
Assist the Marketing Manager with day to day operations on the marketing campaigns
Recruitment, coaching and guiding new starters
Public speaking skills
This role can be as big or as small as you make it… We are truly dedicated to help each Apprentice reach the level of experience and industry knowledge they desire.
What's in it for you?
Real life work experience & key skills that can be transferred in any industry
Competitive uncapped commission only pay including weekly bonuses
Client specific training with access to state of the art technology and sales tactics
Open door policy with Senior Management
Social events including complimentary tickets, dining experiences, sporting events and much more
Some travel opportunities will be offered to top performers
Requirements and Recommendations:
All applicants must be over 18 years old and eligible to work in the UK on a self-employed basis.
We offer these openings on a long term basis with internships starting at 8 weeks minimum. Please state your availability in the application process.
You must be able to commute to Watford, WD17 daily
To find out more about Champtronix, apply today! You may be invited to spend a voluntary day observing a typical day with us before we make a final decision.
Key Words: Internships, intern, experience, retail sales, trainee customer service advisor, retail sales advisor, sales assistant, direct sales, field sales, inbound sales, call centre sales, retail sales assistant, trainee customer service advisor, customer service assistant, customer service representative, sales advisor, trainee sales advisor, trainee sales representative, customer assistant, customer advisor, full time, urgent, promotions. PR.
£300.00 - £550.00 per week
weekly bonuses