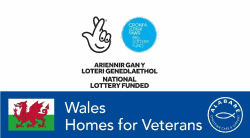 Housing Support Worker - Veterans - Wales - Smart Recruit Online
Merthyr Tydfil, WA CF482EU

Do you love making a difference to people's lives?

We are committed to the safeguarding of children and vulnerable adults. The successful applicant will be subject to an advanced DBS check. We strive to be an equal opportunities employer.

We believe that all employees are the heart and soul of us. We want to invest in you, to ensure that you feel valued as we believe happy staff equals a happy workplace and this will contribute to a successful Charity. Why not apply join our Team today and you could not only be part of a fantastic Charity but also receive the staff benefits listed below.

24 days holiday increasing to 29 days with over 5 years' service. Bank Holidays are in addition to this
Comprehensive Induction Training
Access to award-winning training and development - My Learning Cloud
Generous sick pay when 6-month probation is completed
Free access to round the clock employee assistance program for advice and support Via Mindful Employer Plus
Accredited Disability Confident Employer
Staff Work Perk

We are looking to recruit a Housing Support Worker based in Merthyr to work with Veterans for 7.5 hours per week. This position calls for a flexible approach and will involve assisting the Manager to develop innovative and effective practice relating to team building, service user involvement, key working and outcome monitoring as required internally and by the funders to support veterans to lead fulfilling and independent lives

The hourly rate is £9.09ph, rising to £9.32ph after successful probation review. Annual Salary £3,545.10 - £3,634.80. Work as part of the company's flexible duty rota, to include some unsociable hours at weekends, Bank Holidays and evenings

Key performance objectives

To directly provide support for veterans so they may work toward maximising their independence.
Work as part of a team being responsible to your Line Manager for the wellbeing of service users, all other staff and volunteers
Collate information as required to enable accurate reporting on performance against internal/external targets and outcomes
Ensure veterans are fully involved at all levels in the running of the project

Rydym yn awyddus i recriwtio Gweithiwr Cymorth Tai ym Merthyr i weithio gyda Chyn-filwyr am 7.5 awr yr wythnos. Mae'r swydd hon yn galw am ddull gweithio hyblyg a bydd yn cynnwys cynorthwyo'r Rheolwr i ddatblygu ymarfer arloesol ac effeithiol ym meysydd meithrin tîm, cynnwys defnyddwyr gwasanaeth, gwaith allweddol a monitro canlyniadau yn ôl yr angen yn fewnol, ac yn ôl angen yr arianwyr, er mwyn helpu cyn-filwyr i fyw bywydau bodlon ac annibynnol.

Y gyfradd fesul awr yw £9.09, a fydd yn codi i £9.32 yr awr ar ôl cwblhau cyfnod prawf yn llwyddiannus. Cyflog Blynyddol: £3,545.10 - £3,634.80. Yn gweithio fel rhan o rota dyletswyddau hyblyg y cwmni, i gynnwys rhai oriau anghymdeithasol ar benwythnosau, Gwyliau Banc a gyda'r nos

Mae hwn yn gyfle gwch i ymuno â'n tîm brwdfrydig!

Darparu cymorth yn uniongyrchol i gyn-filwyr fel y gallant wneud y mwyaf o'u hannibyniaeth.
Gweithio fel rhan o dîm, gan fod yn atebol i'ch Rheolwr Llinell am lesiant defnyddwyr gwasanaeth, pob aelod arall o staff a phob gwirfoddolwr
Casglu gwybodaeth yn ôl yr angen er mwyn sicrhau y gellir adrodd yn gywir ar berfformiad yn erbyn targedau a chanlyniadau mewnol/allanol
Sicrhau bod cyn-filwyr yn cael eu cynnwys yn llawn ar bob lefel wrth weithredu'r prosiect
Essential Skills
To hold a relevant qualification or be committed to personal development through training leading to NVQ accreditation or equivalent
Experience of working in the supported housing sector.
Experience of managing own professional boundaries and confidentiality.
Good working knowledge of the welfare benefits system
Knowledge of Health and Safety Legislation and related issues.
Experience of working effectively with petty cash and financial procedures.
Ability to work autonomously and use own initiative
Organised and able to manage time and prioritise workloads
Ability to engage with Veterans who have complex needs and challenging behaviour
Basic admin and IT skills including word processing and the ability to input information into a database
Have good communication skills, both oral and written
Ability to work well under pressure and crisis manage
Meddu ar gymhwyster perthnasol neu'n ymrwymedig i ddatblygiad personol drwy hyfforddiant sy'n arwain at achrediad NVQ neu gymhwyster cyfatebol
Profiad o weithio yn y sector tai â chymorth.
Profiad o reoli ffiniau proffesiynol personol a chyfrinachedd.
Gwybodaeth ymarferol dda am y system budd-daliadau lles
Gwybodaeth am Ddeddfwriaeth Iechyd a Diogelwch a materion perthnasol.
Profiad o weithio gydag arian mân a gweithdrefnau ariannol yn effeithiol.
Y gallu i weithio ar eich pen eich hun a bod yn flaengar
Trefnus ac yn gallu rheoli amser a blaenoriaethu llwythi gwaith
Y gallu i ymgysylltu â Chyn-filwyr sydd ag anghenion cymhleth ac ymddygiad heriol
Sgiliau gweinyddol a TG sylfaenol gan gynnwys prosesu geiriau a'r gallu i fewnbynnu gwybodaeth mewn cronfa ddata.
Meddu ar sgiliau cyfathrebu da, ar lafar ac yn ysgrifenedig
Desirable Skills
A driver with access to a road worthy vehicle and business insurance.
Gyrrwr a all ddefnyddio cerbyd sy'n addas ar gyfer y ffordd ac sydd ag yswiriant busnes.