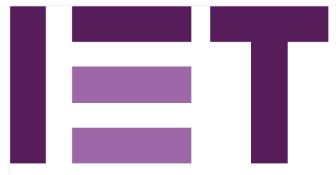 Group Manager- Event Production - THE INSTITUTION OF ENGINEERING & TECHNOLOGY
Stevenage, HC SG1 2AY
Group Manager (Event Production)
Circa £37,000 to £40,0000 per annum
1 x Perm
1 x Fixed term until April 2021
Stevenage, Hertfordshire
We are looking for two Event Production Group Managers to join the IET family!
We are the IET and we inspire, inform and influence the global engineering community to engineer a better world. As a diverse home across engineering and technology, we share knowledge that helps make better sense of the world in order to solve the challenges that matter. It's why we are uniquely placed to champion engineering.
You will play a key role in managing the IET's events portfolio which not only contributes to the sharing of Science, Engineering and Technology knowledge amongst members and the wider engineering community but also generates significant revenues for the Knowledge Services & Solutions Directorate.
You will have an events or conference production background, ideally in a commercial environment or a charity with a commercial remit and have experience in researching and producing topics brief for commercially viable events. Excellent people management skills and the ability to assimilate complex information, driving good content and topic generation, is key!
Take a look at the day to day responsibilities and key skills below. If you feel you have experience in a number of these areas (even if it's not quite all of them) please send us your CV for consideration.
In your covering message please also confirm which role you are applying for
If you are keen to join the IET Family, we look forward to hearing from you soon.
Day to Day Responsibilities (summary)
Manage a team of Event Producers to deliver a number of commercial and non-commercial events for that Group
Manage the P&L of the Group and to provide regular forecast updates and mitigation strategies where necessary
Work with colleagues to investigate the possibilities of geo-cloning UK events to an international market and vice versa
Research and produce topic briefs for commercially viable events in specific engineering and technology sectors
Actively seek potential partners for collaboration on events, entering into partnerships
Liaise with in house editors to use their market knowledge to develop conference ideas
Be responsible for the quality of the content of events, proofing all material for web, email and print marketing channels
Ensure adherence to research and conference production processes and managing the schedule of event deadlines
Liaise with the Delegate and Sponsorship Sales departments to ensure that revenue opportunities are maximised for events within the Group
Liaise with the Marketing department to ensure that each event is effectively promoted and publicised using all appropriate channels
Work closely across other IET departments to coordinate activities and manage the events process where required
Maintain an awareness of (commercial) events produced by other Institutions and commercial competitors
Contribute to the strategic direction of the Event Production and Services department and annual and longer-term business planning
Key Skills
Interest in Engineering, Technology or Business, including expertise in the current commercial/industrial world
Track record in a conference production environment, with excellent research skills
Excellent interpersonal skills, with the ability to influence, persuade and motivate at all levels
Excellent verbal and written communication skills
Sound organisational and planning skills, with the ability to work under pressure and to deadlines
Ability to assimilate complex information quickly
Good experience of generating topics for commercial events
High level of IT literacy
Budget management experience
Experience of developing awards event (desirable)
The IET is an equal opportunity employer. We celebrate diversity and are committed to creating an inclusive environment for all employees.
£37,000.00 - £40,000.00 per year