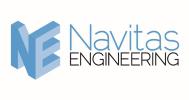 Graduate Electrical Design Engineer / Electrical Design Engineer - Navitas Engineering
London, London SE1 7QY
We are offering a fantastic opportunity for Graduate and experienced Electrical Design Engineers to join our expanding electrical design consultancy that provides electrical engineering design and consultancy services to the railway, and electricity supply industries, in the U.K. and abroad.
Company Profile
Navitas Engineering provides electrical engineering consultancy and design services to the railway and electricity supply industries. We provide engineering support covering the complete asset lifecycle including feasibility studies, option assessment and selection, outline design, detailed design, and engineering support during the implementation, operation and maintenance phases.
We have extensive railway electrification engineering experience including the delivery of traction power supply system studies, designs, specifications, the engineering management of multidisciplinary projects, conducting EMC assessments, and also delivering successful infrastructure and rolling stock safety cases.
Role description
As an Electrical Design Engineer, you will work as an integral part of the design and engineering team to deliver high quality design solutions and ensure work is carried out within time constraints and budgets. You will provide direct support to Senior and Principal Engineers with the opportunity to take a lead role on some projects as your experience grows. In turn, you will have the opportunity to refine your knowledge and skills, while gaining valuable and broad industry experience. You will also be provided with relevant software training (such as ETAP, MicroStation, CDEGS, MATLAB and StrikeRisk), where necessary, to support your ability to effectively deliver and communicate your design solutions.
This is an excellent opportunity for any aspiring Electrical Design Engineer to be exposed to high quality projects and mentorship that will be provided as part of your training in the role.
Duties, responsibilities and activities
Support the production of high quality, accurate and compliant technical designs and drawings;
Support delivery of feasibility studies and outline and detailed railway electrification designs;
Attend site to support surveys and testing activities;
Support completion of electrical design and protection setting calculations;
Attending client meetings;
Provide support in all aspects of projects from tender to delivery;
Production of electrical designs that can be constructed in a safe and efficient manner;
Ensure compliance with all relevant legislation, regulations, standards and Navitas Engineering procedures;
Support the checking and approval of drawings and documentation in accordance with the relevant standards;
Support technical studies and investigations;
Use of relevant software packages such as ETAP, MicroStation, CDEGS, MATLAB and StrikeRisk;
Provide support in the development of Designer's Risk Assessments;
Provide input into design review meetings;
Support development of and adhere to detailed project plans, ensuring timely project delivery;
Provide support to the Principal Engineer in commercial aspects of projects;
Provide an excellent service to the Client;
Effectively manage workload;
Supporting the production of cost estimates and tendering activities;
Support the general day-to-day operation of the business.
Please be aware that these duties, responsibilities and activities are subject to level of experience and Navitas Engineering will always provide the necessary support to a successful candidate to ensure that they feel comfortable in their new role and can fulfill their duties effectively.

Knowledge, skills, qualifications and experience
Bachelor's degree, or equivalent, in electrical engineering;
Experience of working in a railway electrification design environment (preferred);
The ability to produce consistently high-quality outputs;
Excellent written and spoken English;
Exceptional attention to detail;
A good working knowledge of Microsoft Office;
Enthusiasm and appetite for personal development and acquiring new skills;
Experience with CAD packages such as Bentley MicroStation and AutoCAD (preferred).
Personal skills
The ability to work efficiently and communicate effectively with other team members;
Exceptional time management and organisational skills;
The ability to work effectively while under pressure, individually and within a team.
Benefits
Annual performance-related bonus;
Mentoring and training opportunities;
Annual salary review;
Professional membership fees;
Pension;
26 days annual leave;
Season ticket loan;
Private health cover;
Life insurance;
Gym membership.
up to £28,500.00 per year
Salary dependent on level of experience