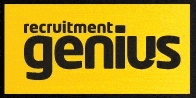 Drain Engineer - Mate - Recruitment Genius Ltd
Chalgrove, HC
This business has retained the majority of their staff since the beginning due to their overall friendly atmosphere amongst the site and office teams. The company believe in promoting where possible within and encourage staff to take opportunities to train and develop their own careers which in turn benefit the company too.

They are looking for a Drain Engineer to work alongside one of their lead engineers as part of a two person team.

Duties will include once fully trained:

1) Drain cleaning and obstacle removal
2) CCTV drainage surveys and investigation
3) Pipe rehabilitation
4) Confined space
5) Working along side tanker teams.
6) Mechanical and robotic cutting
7) Pre-Planned maintenance work

Training will be given to the right candidate, but they are looking for physically fit people who have a serious willing to learn and develop. The ideal candidate will be used to early starts, happy to work as part of a team and being of generally a friendly lively character who enjoys working hard while still maintaining a smile.

Must have a clean driving license.

The starting salary is £20'800 per annum going up to £23'000 overtime once trained.

There is plenty of opportunity for overtime, nights and some weekend and they offer 20 day per annum holiday with a shut down period over Christmas.

Their depot is located in Chalgrove just off the M40 junction 7 although vans are provided or shared between teams depending on where the site you are working is.
£20,800.00 - £23,000.00 per year