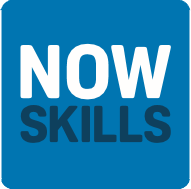 Digital Marketing Apprenticeship - NowSkills IT Apprenticeships
Liverpool, NW L1 1DB
Are you based in Liverpool? Want to become a Digital Marketing Apprentice?
NowSkills are working with a Web design and Digital Marketing specialized company based in the city centre of Liverpool and are looking to expand their team by hiring a Digital Marketing Apprentice. As a Digital Marketing Apprentice you will: work a long side a team of professional marketers, learning a range of new marketing skills from content creation to SEO.

100% of NowSkills Apprentices have a job from day one of their Apprenticeship programmes. Why not join hundreds of successful apprentices today!
Your Digital Marketing responsibilities:
This is a paid learning employment opportunity to earn whilst you learn in as a Digital Marketing Apprentice. During and after your Digital Marketing IT apprenticeship your duties will include:
Managing and scheduling social media posts.
Learning how to use Google Ads and Analytics.
Writing blogs and creating new pages for the company website.
Learning how to use Adobe creative suite software.
Organically optimize pages by using search engine optimization and social media optimization (SEO & SMO)
Sound interesting? This Digital Marketing Apprenticeship's qualifying requirements
Real interest for Digital Marketing.
Grades A-C in GCSE Maths & English Language (can include equivalent e.g. Functional Skills Level 2)
Creativity.
Likes to keep up with the latest online trends.
Good communication skills.
Extra Benefits
Apprenticeship discounts
Discounted Metro link travel card
25+ Paid annual leave
Typical work hours…
Monday - Friday, 9:00am -5:00pm (1 hour for lunch)
What kind of training will you receive?
Training will take place in our classroom locations, online and face to face with our mentors. Your employer's line manager will also support you and teach you skills.
As a NowSkills Digital Marketing Apprentice, you will be assigned a supportive and well experienced Digital Marketing tutor who will provide tasks and targets to you to help you obtain the best possible grade.
IT Qualifications you will receive (varies with the employer's projects)
CIW Internet Business Associate
MTA HTML5 Application Development Fundamentals
CIW Social Media Strategist
Future Prospects - Why a Digital Marketing IT Apprenticeship?
If you're a creative and aspiring learner with a keen interest in IT, a Digital Marketing Apprenticeship could be the right choice for you! A Digital Marketing Apprenticeship will help you to gain the qualifications, skills, a salary, no student debt and the work experience you need to prosper in the IT industry.
Below are just a few examples of the kind of roles you could head into after your Digital Marketing Apprenticeship and the kind of salary you could receive:
Digital Marketing Manager: £30,000 - £35,000 a year
Digital Marketing Executive: £29,000 a year
Social Media Specialist - £21,500 a year
Launch your career in IT as a Digital Marketing Apprentice and APPLY TODAY!
£8,500.00 - £13,100.00 per year
+ extra benefits included