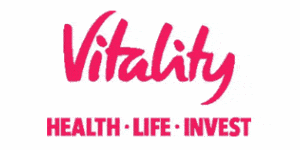 Cross Sell Marketing Lead - Vitality
Bournemouth, SW BH11JD
Vitality, Cross Sell Marketing Lead, Bournemouth, £Competitive + Bonus + Benefits
Vitality is an award winning, dynamic and vibrant financial services provider, with a ground-breaking vision for the future, where individuals are enabled to succeed and are rewarded and recognised for their contribution to our business.
In exchange for your hard work and commitment to Vitality in this Cross Sell Marketing Lead role, we have designed a generous benefits package to reward our employees, this includes;
- Our award winning private Vitality Health insurance + wellness incentive programme
- Vitality Partners and Rewards – Apple Watch, Ocado, Garmin, Champneys Spa days, half price gym memberships, Disney Store discounts to name a few!
- Personal health fund + Life Assurance
- Stakeholder Pension Plan with employer contribution
- 25 Days annual leave + Bank holidays + option to buy and sell 5 more.
- Flexible benefits package
- Internal incentives, competitions and awards – a chance to win football and sports tickets or even be in with a chance to have a holiday of a lifetime
- A genuine opportunity to grow and establish a long-term career
As our Cross Sell Marketing Lead, you will lead the marketing approach to cross sell and up sell, setting the strategy and managing implementation of that strategy across the key marketing channels including but not limited to: our website, Vitality Member Zone and Member App, Email, SMS, Direct Mail, social, direct member advertising.
Responsibilities as our Cross Sell Marketing Lead include:
- Responsible for the strategic planning, budgeting and implementing of Cross Sell marketing for Vitality working with the Experience and Customer Marketing Director
- Responsible for ensuring that cross sell customer experiences are brilliant and working across group with relevant centers of excellence to achieve this
- Developing and implementing tactical plans that support the strategy by channel, budget and KPIs
- Senior stakeholder management
- Guardian of the member experience for cross sell – you will ensure that member preferences, contact strategy and overall experience remain paramount and you will balance this with sales targets and expectations
- Look externally for best practice approach to customer communications and composite marketing
- Build strong relationships with key stakeholders including Customer Experience/Servicing, Retention and Sales teams and the broader Marketing Team
- Monthly reporting of marketing activities and results
Skills and Experience required of our Cross Sell Marketing Lead:
Essential
- Substantial marketing experience
- Experience working in a customer marketing capacity - e.g. focussed on retention, onboarding, customer experience and service improvement
- Experience in managing high profile end-to-end marketing campaigns for a product suite for multiple customer segments
- Significant experience in working with, influencing and presenting to senior stakeholders
- Experience of managing and delivering multiple priorities/projects to tight deadlines
- Excellent collaboration, strategic planning and presentation skills
Desirable
- Good understanding of intermediary marketing and client segmentation skills to define marketing strategy
- University qualified, with a marketing or communications degree (or similar)
- Recent Customer Experience qualifications
- Experience of working AGILE
Working for Vitality as our Cross Sell Marketing Lead you'll experience an exciting mix of creativity and innovation, within a framework of challenging objectives and a passion for delivering the best. We think work should be fun and sociable, and we want our people to get the most out of every day.
Our people are chosen for their skills, knowledge, enthusiasm and attitude but above all, their belief that anything can be achieved.
Closing Date: Thursday 28th November 2019
If you feel you have the skills and experience to become our Cross Sell Marketing Lead, please click 'apply' today.