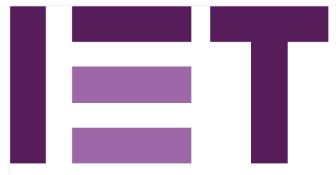 Content Producer - THE INSTITUTION OF ENGINEERING & TECHNOLOGY
Stevenage, HC SG1 2AY
Content Producer, Institution of Engineering and Technology
Circa £27,000 to £33,000 per annum
Stevenage, Hertfordshire
We have an exciting opportunity for a talented Content Producer at the IET. You will be joining a leading-edge team that works to address major societal challenges in engineering and technology. This role will give you an excellent opportunity to use and develop your content production skills in fast-changing, cutting edge areas.
At the IET we inspire, inform and influence the global engineering community to engineer a better world. As a diverse home across engineering and technology, we share knowledge that helps make better sense of the world, to solve the challenges that matter. It's why we are uniquely placed to champion engineering.
You will be hands-on in producing, editing and proofreading engineering and technology content for a range of stakeholder audiences - from Members of the IET and the general public, through to industry and Government. You will regularly engage with public figures and politicians, so previous experience of working with volunteers, policy makers, trade bodies or industry consultancies would be ideal.
The successful candidate will be an experienced and enthusiastic copywriter and proof-reader, and will be able to write technical and non-technical content across print and online. You will also have knowledge or experience of working with creative video production teams. Both written and video aspects form integral parts of the role.
You'll join a small operations team and will work closely with the Head of Department, as well as our Marketing, Communications and Video Production teams and a range of external experts. The role is based in Stevenage, but involves regular travel to London and the occasional overnight stay elsewhere in the UK.
Please take a look at the role outline and person specification below. If you feel you have experience in a number of these areas (even if it's not quite all of them) please send us your CV for consideration. We are also open to discussing flexible ways of working, including reduced hours and working in an agile way.
If you are keen to join the IET family, we look forward to hearing from you soon.
Day to Day Responsibilities (summary)
Work with engineering experts to develop authoritative, engaging and segmented written and video content.
Produce and proofread copy for online articles, case studies, insights, reports and white papers.
Work with the IET's in-house video production team to produce impactful and compelling video content.
Work with Marketing and Communications teams to ensure that new content is disseminated as effectively as possible across all relevant channels to maximise its impact.
Work with Marketing and Web teams to keep the relevant pages of the IET website up to date.
Work with IET experts and Marketing to handle the production and delivery of SEP's six bi-monthly newsletters.
Assist in developing and maintaining departmental language and tone, in line with brand guidelines.
Key Skills
Educated to degree level or have an equivalent Professional Journalism / Creative Writing qualification.
Proven ability to work with technical and non-technical content.
Self-disciplined and able to drive own work and hit own and Line Manager deadlines.
Excellent written communication skills, with the ability to assimilate complex information quickly and produce written pieces to a high standard of presentation.
Ability to work to tight deadlines in a fast-paced, varied environment.
Customer centric – ability to write content for a range of audiences (particularly academia, government, industry and the general public) and repurpose content for the same.
An interest in and knowledge of producing a range of content from articles to full reports, as well as video and online material.
The ability to operate in an agile, matrix-working environment.
A team player with strong organisational and collaborative skills.
Ability to work independently flexibly and with enthusiasm.
Good level of IT literacy
Experience of working with volunteer / user-generated content.
The IET is an equal opportunity employer. We celebrate diversity and are committed to creating an inclusive environment for all employees.
£27,000.00 - £33,000.00 per year