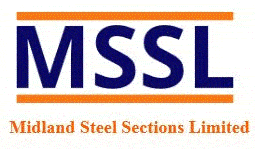 Commercial Manager - MSSL
Brierley Hill, MID DY68XF
Here at MSSL (Midland Steel Sections Ltd) we have an exciting opportunity for a Commercial Manager to join our busy Sales team. You will report into the Group Commercial Director and will assume responsibility for, and lead, the Sales and Marketing operations of the business.
You will be working on a full time, permanent basis and in return, you will receive a competitive salary of £60,000 (dependent on experience) with a competitive performance-based bonus.
Hours: You will be working Monday to Friday (Days)
About us:
Midland Steel Sections (MSSL) is a well-established steel stockholder and processor, ideally located in heart of the West Midlands and able to offer extensive steel products and services.  Part of a larger global steel organisation, Taurani Holdings Ltd, the group has diverse global interests and a fully integrated supply chain, enabling a comprehensive and competitive full spectrum product offering.
Our world class facilities and equipment enable us to provide value-added services such as tube laser cutting, high speed bundle cutting, efficient bulk handling equipment and further value-added services such as drilling, shotblasting and painting, flat bed laser cutting, brake pressing and profiling. In addition, we have a fully equipped fleet of purpose-built steel lorries, able to cover vast geographic deliveries from our centrally located depot in Dudley
MSSL has a very good reputation in the manufacturing and engineering industries, for providing excellent customer service.  The business is now looking to expand its offering to the broader steel consuming sectors (construction and other manufacturing companies), by actively increasing its customer base, diversifying its already comprehensive product and service portfolio and driving the business to become a centre of excellence in the Midlands for steel processing.
The responsibilities as our Commercial Manager role include:
You will be expected to achieve agreed sales/volumes/growth and profitability targets for the Company. You will lead the sales team, developing and implementing commercial strategy and giving clear guidance and direction at all times. You will develop and implement highly effective, efficient and rigorous commercial practices and procedures for both internal and external sales activities, marketing systems and customer service activities. The Commercial Manager will be responsible for building a well-structure and highly competent team to deliver this strategy. You will need to develop and grow the MSSL brand and cross sell wider group offerings under the THL Group as well building effective relationships with customers, suppliers and staff. You will be responsible for setting and agreeing targets for the commercial team and monitoring these regularly.
What are we looking for in our Commercial Manager?
- Commercial and sales experience in the UK steel stockholding industry
- Proven track record of delivering growth in a challenging market
- Understanding of value-added processing – tube laser, hollow section processing and general steels processing (section and flat)
- Ability to deliver above market margin returns based on customer service and relationships
- A structured, analytical and progressive mindset
- Ambitious, eager to progress and results orientated
What we can offer you as our Commercial Manager:
- Very attractive bonus structure
- Full training on our in-house systems
- Life insurance
- Company Pension Scheme
If you have the requirements listed to become our Commercial Manager, please click 'apply' today. We'd love to hear from you!
60,000.00 - 60,000.00 per year