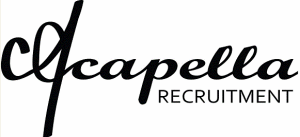 Cleaner - Acapella Recruitment
Chichester, Southern PO189AB
CLEANER
Part Time - Up to 16 hours per week
West Lavant, Chichester
Main purpose and scope of the job
Our client is looking to appoint a Cleaner who will report to the Office Manager. The successful candidate will be an experienced cleaner who takes pride in their work, can work safely and efficiently.
You will work as part of a helpful and friendly team, maintaining cleanliness across the site ensuring health and safety protocols are followed. Your main aim will be to carry out a range of cleaning activities including mopping, sweeping, dusting, emptying bins and cleaning washrooms. 

They are a series of managed offices, residences and construction sites, so they are looking for an individual who can envision the highest standard for each area, not allowing the construction elements to impede upon the expectations of site cleanliness. 

Duties and key responsibilities 
•Ensure that areas are cleaned to the highest standards at all times 
•Comply with on-site Health and Safety requirements 
•Preparing, cleaning and general upkeep of the premises
•Maintain and upkeep the general social areas of staff rooms
•Cleaning, stocking and supplying designated facility areas (dusting, sweeping, vacuuming, mopping, cleaning ceiling vents, restroom cleaning etc)
•Carry out heavy cleaning tasks and special projects
•Stock and maintain supply rooms


To succeed in this role
You will need:
•Good attention to detail 
•The ability to communicate effectively with a variety of people 
•Good verbal and written communication skills
•A proactive 'can do' approach 
•Pride in your work 
•The ability to manage workload and independently prioritise tasks 
•The ability to show initiative 
•A logical thought process 
•Cleaning experience is preferred, but full training can be provided  


The perks
•Salary is £8.50 per hour. 
•28 days paid holiday (including Bank Holidays) 
•4% contributions towards the NEST pension scheme
•Ride2Work scheme (discounted bicycles)
•Learning and development opportunities, both internally and externally
•The opportunity to work with a great team on an up and coming project

If this sounds like the opportunity for you, please apply ASAP with your CV.  (Online applications only please – our client requires a CV.)
*PLEASE NOTE – by applying to this position, you agree for your CV to be submitted to our client, who shall contact you directly, should your application make their short-list.  You also agree to our Privacy Policy: acapella-recruitment.co.uk./privacy-policy.html which can be found on our website.