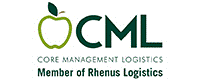 Bendi Truck Driver - Rhenus Logistics
Lutterworth, MID LE174XT
Are you looking to further your role in the Warehouse Operations by operating a Bendi Truck?
Rhenus Warehousing Solutions Lutterworth is recruiting for multiple Bendi truck drivers to join our Operations team here at Magna Park, Lutterworth.
If you are not already operating a Bendi truck, you can still apply for the role if you have existing MHE experience on any of the below trucks.



This includes TSP, Combi, Counter Balance and Reach Truck.



You will attend a two day conversion training course before your appointment into the role of a Bendi Driver.
The shift pattern is Monday to Friday,14:00 to 22:00, 40 hours per week
As a combi driver you will be operating the truck on most occasions. The racking in the warehouse is up to 20 meters high. 



Your main responsibilities are as per below. 


Movement of manufactured goods within the warehouse racking locations. This could be putting away stocks or picking orders.

Adhere to procedures regarding the proper use and care of equipment and materials associated with the role.

Operate MHE equipment in a safe manner
General warehouse duties such as carrying picks, packing, scanning and labelling products, tipping trailers, etc. 

If you are interested, please apply for the role as we are looking for an immediate start date.