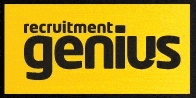 Accounts Assistant - Maternity Cover - Recruitment Genius Ltd
Cobham, HC KT113EL
This company is a world class leader in consultancy services to the energy industry and cover a broad range of technical disciplines. With offices in the UK, Australia, USA and Africa they have a global reach. If you are a driven individual who is interested in a temporary role covering maternity, they welcome your application.

Reporting to the Financial Controller, this individual will work closely with all finance team members and wider business employees. The main responsibilities of the Accounts Assistant are the accurate and timely production of client invoices (across the Group), debt collection and related activities, cash flow forecasting and management of the Group's CID (funding) Facility.

General
- Ensure that the Group's IT platform is working as expected for all group companies in relation to the customer invoicing and job set-up areas, reporting problems or inconsistencies where they arise.
- Assist with control improvements through the review of processes and procedure.
- Assist in projects to improve the processes and controls in place.

Quality, Health, Safety, Environmental
- Ensure that all new projects are set-up accurately and completed on a timely basis in accordance with the company's internal procedures
- Ensure the accuracy and timely completion of all client invoices prepared monthly, taking account of any withholding taxes and other billing complexities.
- Ensure that where inaccuracies/rejections occur in the invoicing process these are accurately reported to ensure that this are captured as part of the Finance team KPIs.
- Participate and actively contribute in weekly finance team meetings.
- Follow the written process for debt collection and in particular the formal escalation steps to the wider business to aid the Group debt collection
- Maintain the finance team monthly KPIs

Personnel
- Maintain regular communication with the company's operations teams to ensure that specific matters in relation to consultant's invoices and payments are handled in a timely fashion.

Financial
- Review / Prepare the monthly invoices for all live projects in the month.
- Be responsible for all the Group's credit control and cash collection matters.
- Update the short-term daily cash forecast for the Group's multi-currency, multi-jurisdictional, Group Treasury function for cash receipts into the Group's bank accounts
- Be responsible for managing the Group's Confidential Invoice Discounting Facility.
- Actively monitor the reserve/retention levels within the Group's invoice discounting facility and work with the funding partner to minimise these retentions to maximise the Group's cash headroom
- Prepare monthly management accounts (P&L and BS) for certain Group entities, including all Balance Sheet reconciliations, margin analysis per project and division, and overhead variance analysis
- Ad-hoc financial analysis and support.
£32,000.00 - £32,000.00 per year